FOCUS - Logistics & Warehousing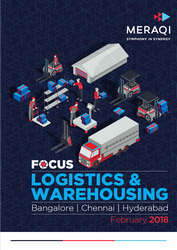 The logistics & warehousing sector in India is evolving to a highly complex supply chain and warehouse mechanism. Agriculture, Export- Import, Manufacturing, Retail and E-commerce are the primary drivers. Investments and fund raising witnessed a paradigm shift since 2015 following the announcement of Make in India initiative, 100% FDI in warehouses and food storage facilities under automatic route and Free Trade Warehousing as well as GST implementation. Post approval of listing of logistics Real Estate Investment Trusts (REITs), real estate developers have also entered the sector in tie – up with private equity and international fund houses to set up logistics parks across the industry.
Today, the product range has widened, particularly in the retail and FMCG sector and emphasis is on shorter lead times with constant changes in customer demand resulting in requirement of integrated and highly mechanised warehousing formats like Distribution Centres/ Fulfilment Centres. Changes in agricultural and industrial demand has also led warehouses to adopt new technologies and expanding their area of services to also include sorting, processing for quality checks as well as analysis and transmissions. Currently, there is 670.4 million sqft of warehousing stock in India; and by 2022, warehousing requirement is expected to grow from 253.5 million sqft to 923.9 million sqft. Opportunity for warehouse development by real estate developers is in the Private players and 3PL segment. By 2022, opportunity for warehouse development in this segment is expected to be 136.9 million sqft.