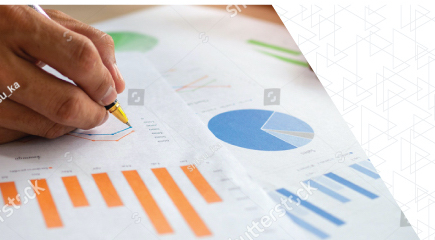 Graph & Analysis
What type of companies are occupying the warehousing spaces in India?
2/3rd of the warehousing demand is shared between e-commerce & 3PL firms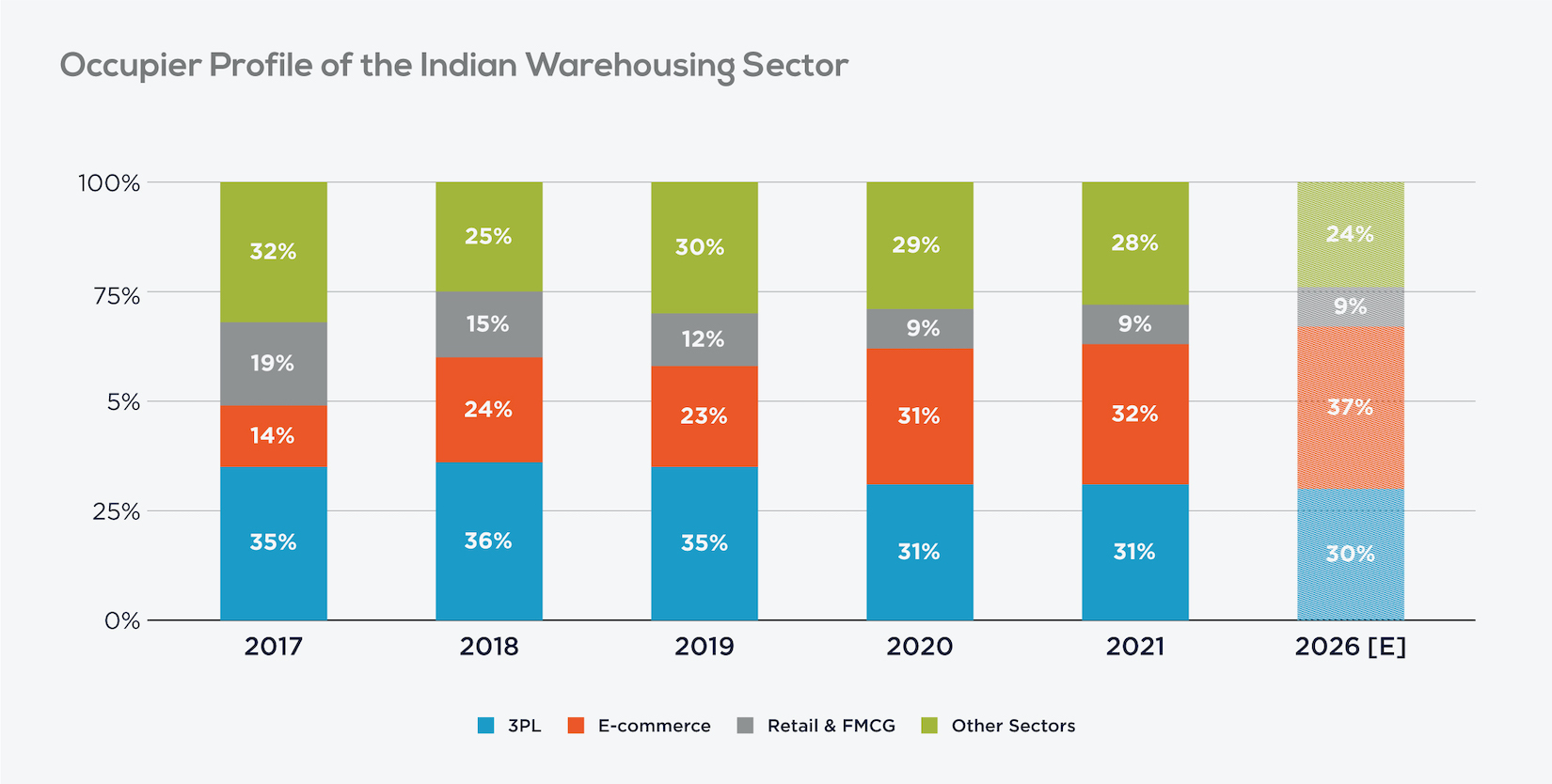 The e-commerce sector will drive bulk of the volume, as the accelerated growth trajectory that the pandemic pushed the sector toward is expected to sustain. Most consumers that were forced to shop online will continue to do so and the existing brick-and-mortar stores will also look to leverage online channels to push sales. The 3PL sector will sustain market share as e-commerce and other sectors increasingly outsource their warehousing requirements to specialists in the field.
Indian e-commerce market is on the cusp of its next phase of growth with Indian business giants such as the Reliance and Tata groups have entered in this field along with global players including Amazon and Walmart to capture this growing market. A growing economy like India with the second largest population in the world still holds massive potential for its warehousing market which will fructify over the next few years.
It is estimated that the e-commerce sector will consume the most space in the next five year (2021-2026). Similarly, 3PL and Other Sector companies are expected to take up more space in the next five years compared to the preceding period. These three occupier groups are expected to account for almost 90% of the total transacted space in the next five years.
---
Stock, Absorption & Rental Values for Warehousing Space in Top 8 Cities of India
Delhi NCR, Mumbai, and Bangalore account for 60% of top eight market absorption and the same trend is expected to continue; Tier 2 locations are expected to generate demand of 25% of the gross absorption of India market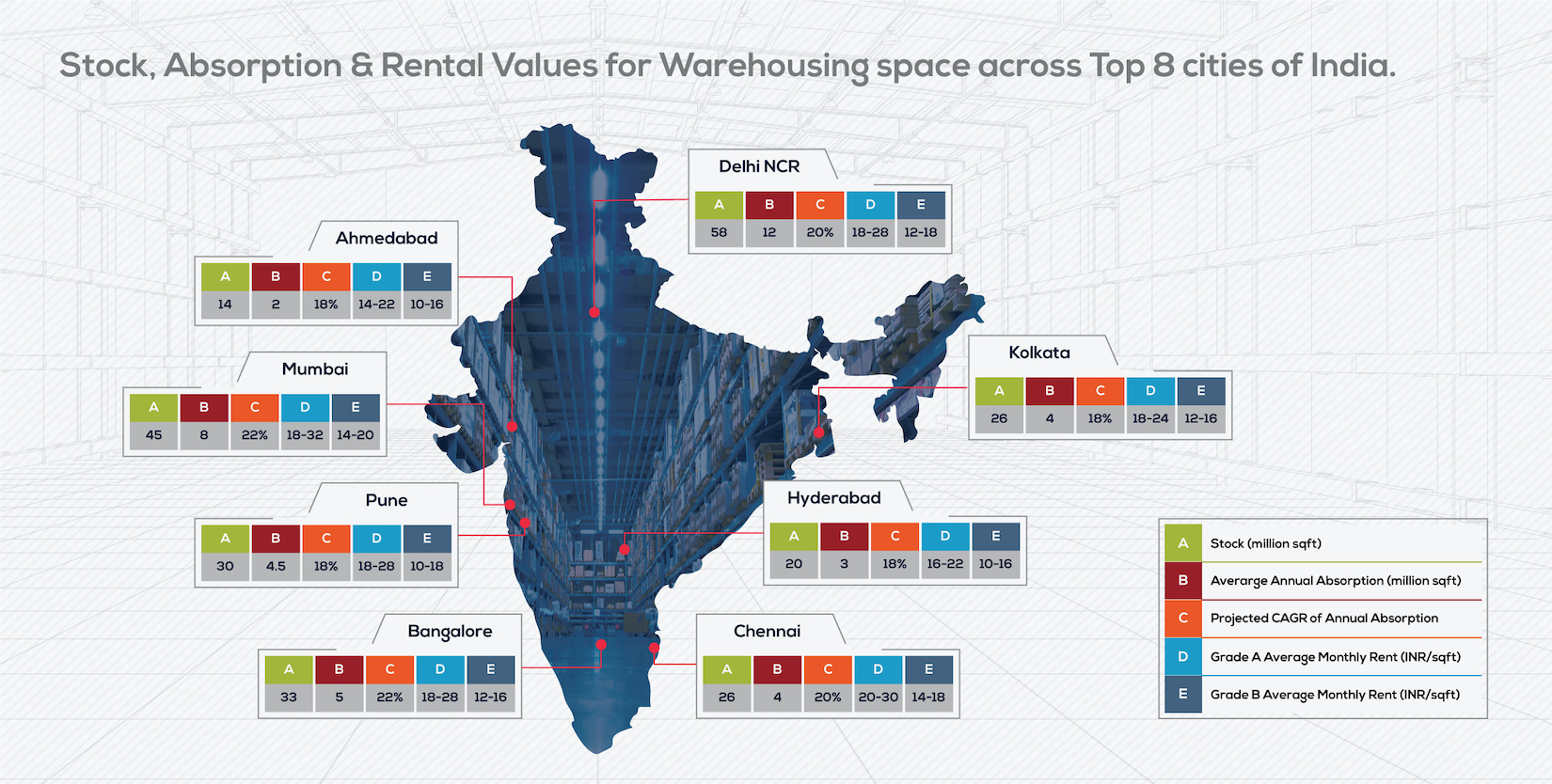 The eight prime markets of India held an estimated 252 mn sqft of warehousing stock at the end of H1 CY 2021. The Mumbai & Delhi NCR market accounts for 40% of this stock. The larger warehousing markets of Mumbai and Delhi NCR have a significantly lower proportion of Grade A warehouses as they are much older markets and the bulk of their stock had been built before the demand for Grade A warehousing gathered momentum. Bangalore, Pune, and Chennai have the higher levels of Grade A stock due to their primary demand base of ecommerce, auto and auto ancillary occupiers.
Prominent cities or Tier 2 markets that are witnessing increased warehousing developments are Guwahati, Coimbatore, Bhubaneshwar, Lucknow, Visakhapatnam, Kochi, Vapi and Surat. Annual demand in these markets have grown significantly; from a share of 10% in 2015 the absorption in these markets have grown to 20% of the total demand across top 8 markets in the year 2020. We expect this trend to continue, and tier 2 locations will have a share of 25% of the prime markets in next few years.
Absorption is likely to grown between 18% and 22% annually for most of the markets. Rental escalations for Grade A space are expected to be between 4% and 6% and 3% to 5% for Grade B spaces in the coming three years.
---
Supply & Absorption trends of Warehousing Real Estate in India
Warehousing market is expected to grow over 20% annually in next five years; CAGR of Grade A space is expected to be 30% compared to 12% of that of Grade B spaces.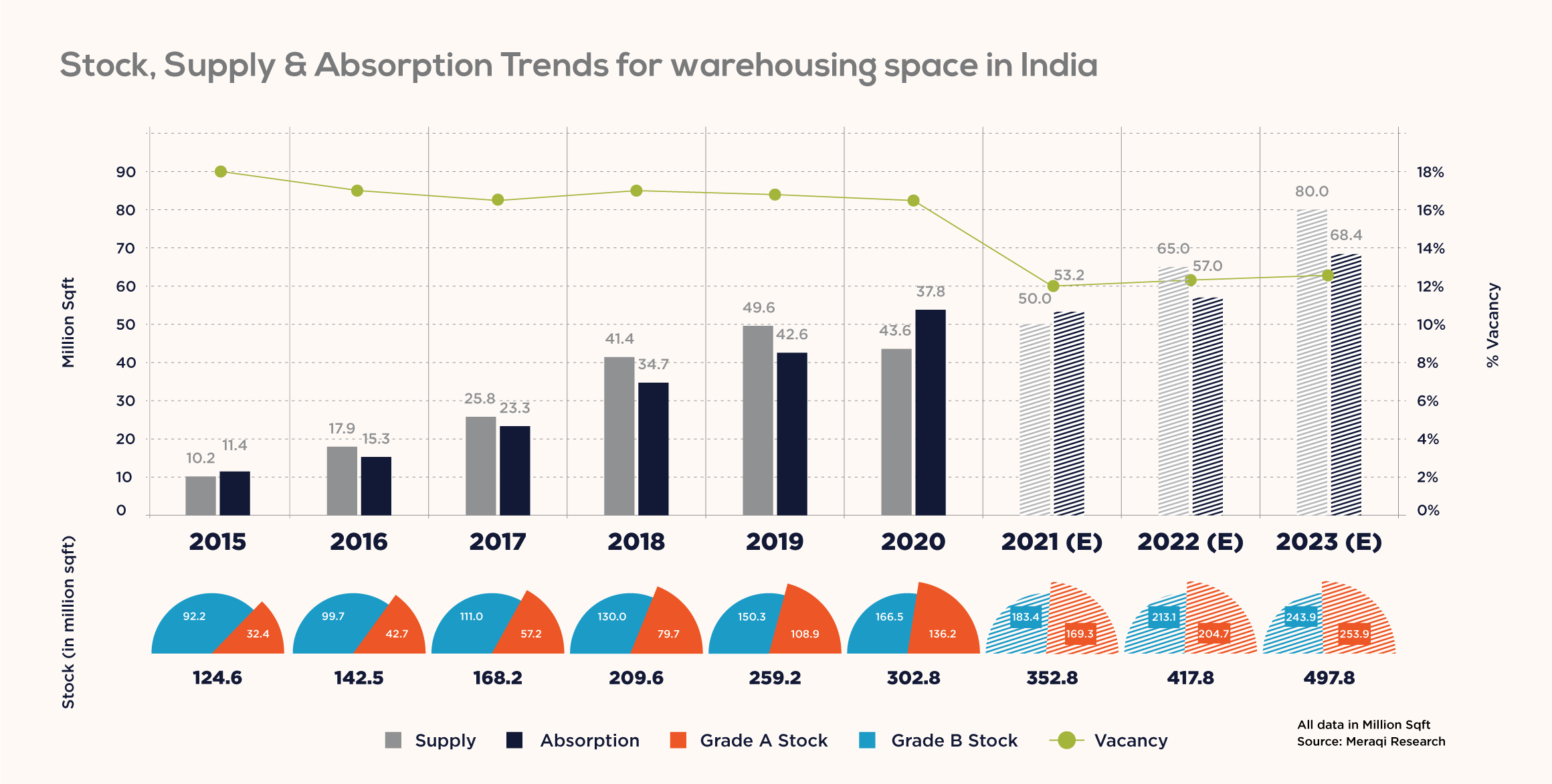 Modern Indian warehousing story started between 2005 and 2010 when logistics companies built the first Grade A warehouses in the country. A growing economy with a consumption base of over 1.35 bn people, made the Indian warehousing market a compelling investment proposition. Since last one decade, growth witnessed in the e-commerce and 3PL sectors caused warehousing demand to grow at a CAGR of 35% in the last 5 years.
Currently, proportion between Grade A & Grade B warehousing spaces is 45% and 55% respectively. Since 2016, Grade A spaces have been growing at 30% and whereas Grade B facilities have witnessed CAGR of 12%. We are expecting going forward the CAGR gap between Grade A and Grade B to further widen as Grade A spaces offers opportunity in the secondary investment market.
In addition to the attractive domestic consumption story, the Indian government's focus on manufacturing with the Make in India initiative and Production Linked Incentive (PLI) scheme among others, and with India being among the possible beneficiaries of the global companies looking to disperse manufacturing capacity across Asia, the sector is likely to see a surge in demand from different sectors.
---
Kindly notify me on publication of "Handbook for Co-Living Developments in India"