Emerging Residential Niche Products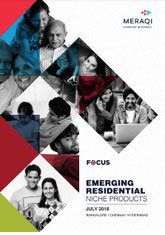 India's maturing residential real estate sector is moving towards product differentiation based on the demographic needs. Fuelled by the changing needs, preferences and purchase motivations of various cohorts, the alternate residential asset class in India is poised to grow exponentially in the coming decade. Developers, investors and private equity funds are exploring these segments aggressively due to resultant higher yield as compared to traditional real estate asset classes.
Our latest sector specific research report 'Emerging Residential Niche Products' reveals the potential of the growing alternate residential real estate market in India, analyses investment trends in niche categories like Student Housing, Micro units and Senior Housing emerging across the Tier I cities and forecasts the future trends in the segment. The report also gives an in-depth view of the changing dynamics in residential real estate development, emerging formats, innovative typographies and customised facilities across the categories.