India's first Real Estate Investment Trust (REIT) - Embassy Office Parks' REIT – backed by realty developer Embassy Group and US-based Private Equity firm Blackstone Group LP, raised INR 4,750 Cr through issue of units at INR 300 a unit.
Encouraging investor response has highlighted the potential of an investment product which was not yet available in India. The success of Embassy Office Parks' REIT is likely to boost fresh investments in commercial realty and increase in REIT listings; giving developers ability to raise resources through the monetisation of rent yielding properties at a relatively attractive cost.
Key factors that can be attributed towards success of Embassy Office Parks' REIT are:
Joint venture of reputed companies – Realty developer Embassy Group & US-based Private Equity firm Blackstone
Assets on offer are in prime cities of India – Bangalore, Chennai, Noida & Pune. Further strong tenant profile and an occupancy rate of 95% in the assets
Office rentals in the past three years have witnessed growth and vacancy rates have declined
---
REITs:
REITs are companies that own or invest in income-producing real estate in a range of property sectors. REITs work like a mutual fund by pooling funds from investors and investing them in rent-generating properties, mostly commercial (office, shops, malls and hotels).
REIT will be set up as a Trust under the Indian Trusts Act, 1982 and has to be registered with Securities and Exchange Board of India (SEBI). REIT to hold specified assets:
Directly or through SPV holding real asset assets; or
Invest in SPV which have investments in other SPVs which subsequently hold real estate assets
REIT for a real estate developer is an alternate funding mechanism that provides liquidity and for an investor it is access to high value real estate and earn fixed returns. Returns on REITs accrue from yield as well as appreciation in the unit price.
Sponsor – sets up REIT and appoints trustee
Trustees - holds assets on behalf of and for the benefit of investors
Manager – undertakes operational responsibility of REIT
Valuer – ensures fair and transparent valuation both financial and technical asset valuation
Assets in which REIT can invest :
---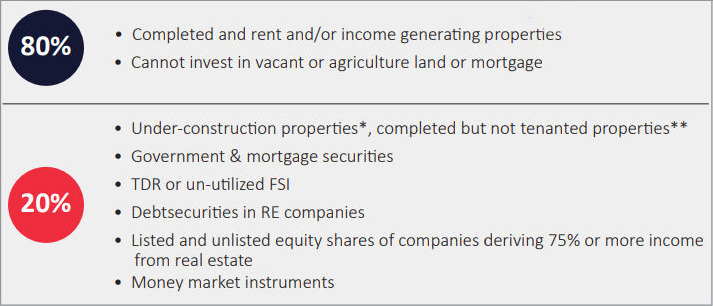 * To be held by REIT at least for 3 years after completion
** To be held by REIT for at least 3 years from date of purchase
Benefits of REIT to various stakeholders:
---
Developer / Sponsor

Increased liquidity
Lesser cost of capital
Management & control over the assets
Continued income through Operations & Maintenance (O&M) contracts
Investor / Unit Holders

Access to investments in real estate sector for retail investors
Assured dividends
Ease in trading of real estate asset
Professional management / expertise – comfort onunderlying value
Regulated by authorities – ensures transparency
REIT offers an organized platform for real estate investment which is professionally managed and ensures protection of investor interests. Success of first REIT in India will have a positive impact on the Indian real estate sector.
Subsequent blog to discuss about returns on investment in REIT
---