Summary: Bangalore Metro Phase I became fully operational in June 2017 connecting the central and the off-central areas. However, it has not connected the key economic hubs housing 90% of the IT /ITeS jobs such as Electronics City, Whitefield and ORR. These will be connected as part of Phase II (WF, EC) and Phase II A (ORR) respectively. It is observed that real estate activity increases about 2 years before the completion of any metro line in anticipation of better connectivity and the resultant price appreciation. However, a sharp appreciation in rental value is observed only post commencement of operations of the line. Currently, the impacts of the metro connectivity are only partially visible with residential activity increasing in locations like Kanakapura Road, Mysore Road, Tumkur Road and Magadi Road and office rentals increasing in the CBD. The completion of Phase II will lead to a multi-fold increase in ridership and a resultant increase in rental values of EC and WF.
Impact of Namma Metro on Bangalore's Real Estate Market
Bangalore Metro Phase I was fully operational in June 2017; it is a significant milestone considering the crumbling infrastructure scenario in the city.
The completion of the interchange between the East-West and the North-South lines at Majestic has reduced travel time along these lines by half as compared to any other means of transportation. As on October 2017 the ridership has reached around 4 lakh commuters. With a frequency of one train every 5 minutes during peak hours, the ridership is expected to increase to 5L passengers by the end of 2017 and a million by 2018.
The current increase in ridership is only due to people travelling from off-central locations towards the city center. Ridership to Whitefield has not increased due to last mile connectivity issues.
Phase
Line
Length
(in KM)
Status
Expected
completion
date
I
East West – Mysore Road to Byappanahalli
13
Operational
2016
I
North South – Hesarghatta to Yelchenahalli
20.2
Operational
2017
Extension
Mysore Road – Kengeri
8.81
UC
2018
Extension
Byappanahalli to Whitefield
15.5
UC
2022
Extension
Yelchenahalli – Anjanapura
6.29
UC
2018
Extension
Hesarghatta Cross - BIEC
3.77
UC
2020
II
RV Road to Bommasandra
19
UC
2022
II
Nagawara to Gottigere
21.5
Tenders invited
20251
II A
KR Puram to Silk Board
17
Approved; delayed
20252
Phase III
Extension of line from Nagawara to Kempegowda International Airport
Route not yet finalized from the three alternatives suggested
2030
1 Based on past experience of the underground metro construction we expect the Nagawara to Gottigere line to complete by 2025.
2 The state government intends to fast track this phase and complete Phase II A by 2020; however, on ground, land acquisition is yet to start and funding is still an issue. Therefore, we have considered a realistic timeline of 2025 for the completion of this line.
Impact of metro rail on urban development:
It has been observed in several case studies around the world that Metro Rail connectivity has the following impacts on land use and real estate.
Source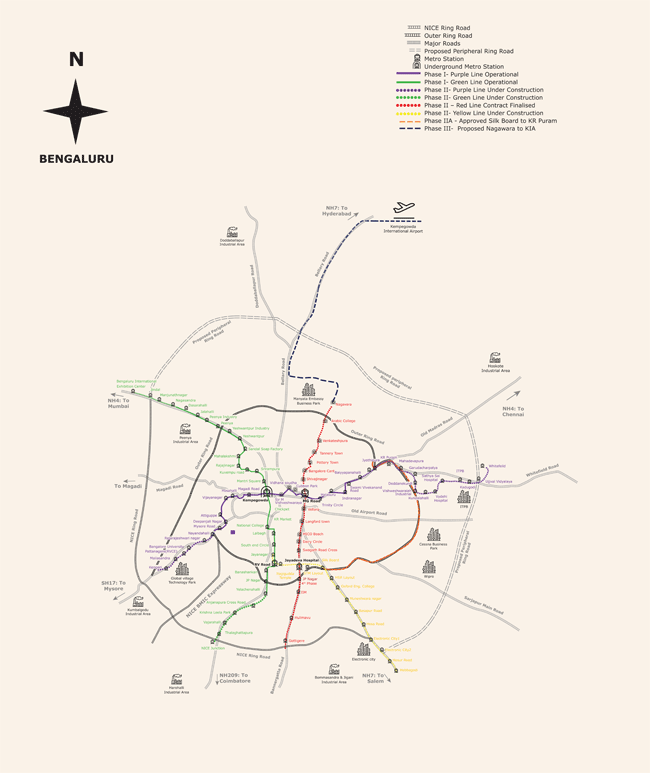 Real Estate activity along metro corridors in Bangalore
a. In Bangalore the full impact of the metro corridor may not be visible now as the first phase connects only the central and the off-central locations.
b. However, 90% of the IT /ITeS jobs are located in peripheral locations such as Electronics City (EC), Whitefield (WF), Outer Ring Road (ORR) and Bangalore North, none of which are connected by the metro yet.
c. The key office micro-markets of Whitefield, Electronics City are expected to be connected by 2022 followed by ORR and Hebbal.
Therefore, the impact of metro corridor will unfold in three stages:
During construction of phase I (2014-2017)
Post construction of Phase I (2017-2022)
Post completion of subsequent phases (2022 onwards)
During Construction of Phase I (2015-2017):
20%
of new launches between 2014-2017 along metro corridor
20%-30%
higher price appreciation compared to projects in similar locations but not along the metro corridor
The immediate impact of any metro corridor is the increase in residential activity along the corridor in anticipation of improved connectivity. Residential development is at its peak 2-3 years before the commencement of the metro line.
Almost all Grade A developers have acquired land banks during the construction phase in anticipation of increased valuation
In case of Bangalore, micro-markets such as Kanakapura Road, Tumkur Road and Mysore Road which predominantly had plotted developments and single family developments prior to the announcement of the metro corridor witnessed several large scale residential townships developed by Grade A developers.
Significant changes have occurred in off-central locations of Magadi Road and Yeshwantpur where defunct industrial land parcels have undergone massive redevelopment in anticipation of improved connectivity.
Capital value appreciation in locations like Yeshwantpur and Magadi Road have been 20%-30% higher than capital value appreciation in other off-central locations which are not connected by metro. These industrial locations have transformed into the most sought after residential hubs due to improved connectivity with premium and luxury apartment developments.
During the construction phase five new malls have been commissioned along metro lines namely Brigade Orion, Mantri Square, Prestige Falcon City and One MG Mall.
Post Construction of Phase I (2017-2022):
30%
increase in new residential launches expected along the completed metro corridors
5%-10%
higher price appreciation along metro corridors
20%-25%
increase in office rentals in central locations post commencement of metro operations.
Micro-units, Student Housing and Rental Housing
will emerge within walking distance from metro station

The period between 2017-2022 would be advantageous for the central and Western half of Bangalore.
Eastern half will continue to be plagued with congestion and traffic issues due to limited connectivity and the ongoing metro phase II construction.
While the construction of Phase I witnessed residential activity, post completion phase will focus on office developments as the necessary residential and social infrastructure is already available.
Office Developments
Grade A developers have been scouting for land parcels within walking distance from metro corridors in CBD locations. Limited availability of land along the metro corridor in the CBD (hence limited supply) and an increased demand for office space as a result of better connectivity has resulted in a 20%-25% increase in rental values in CBD locations since the commencement of metro operations.
Grade A+ developments as per international standards may be expected in central locations within walking distance from metro lines. Amalgamation of land parcels would be key to such developments.
Off-central locations such as Magadi Road and Yeshwantpur, which now have mature residential and social infrastructure will witness commercial development as part of mixed use townships or in the office retail complex formats with focus on co-working spaces, start-ups and professionals.
A delay in the land acquisition and construction activity of metro Phase II and IIA, will result in peripheral areas of Kanakapura Road and Mysore Road witnessing commercial (office) activities. These locations will witness larger campus style developments; Companies that already have a presence in Hosur Road and Bannerghatta Road are likely to expand in these locations.
Residential
30% increase in residential absorption in off-central and West expected; price appreciation to be at least 1%-2% higher than the other micro-markets.
Amalgamation of plots in off-central locations like Indiranagar, Malleswaram, West of Chord Road, Vijayanagar etc. and an increase in apartment developments in these locations.
Apart from premium and luxury segments these locations will witness the development of newer products such as micro-units, professional housing, serviced apartments and rental housing.
Real estate activity will increase in WF and E-city.
2022-2025:
The difference in rental value between WF and ORR to drop at least by 30% on the commencement of metro operations in WF post 2022.
The actual impact of metro connectivity will be visible post Completion of lines connecting WF and E-City leading to multi-fold increase in ridership.
Better connectivity to Electronics City and Whitefield will result in a reduction in the difference between the rental values of these locations in comparison to ORR. Overall these micro-markets will witness a 20%-25% increase in rent as a result of metro connectivity.
Completion of Phase II A on time will be requisite to continue developer's interest in ORR and office rental values in this micro-market would stabilize.
Post 2025, Phase III metro construction connecting the city to Bangalore North will ensure metro connectivity to all the key economic hubs of the city. The focus of real estate development will then shift towards Bangalore North.